September is zooming by and the hectic school routine has well and truly kicked back in! This year I have decided to be a super organised Mummy and rather than setting myself too many morning tasks which make getting to school by the morning bell so stressful, I have given myself a new daily challenge of advance planning once my little one's in bed before I flop exhausted onto the sofa. Top of my must-do list is the all-important lunch box and this year I am determined to create a daily offering which will be both yummy and satisfying because the sight of an empty, well-appreciated lunch box always gives me the feel-good factor..know what I mean? In my research I came across a multitude of simple and inspiring ways to liven up your lunch boxes and here's just a few ideas to get you started. Although some of these ideas may seem time-consuming, don't get freaked out thinking they will take forever, you'll soon get into the flow and once you're creative streak takes over you won't even notice the time!.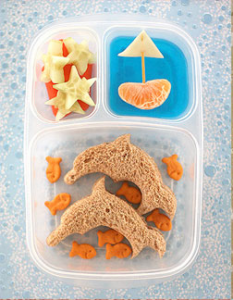 The box: Firstly I love these sandwich boxes that come with 3 sections; my daughter loves finger food in a picnic style and this box allow you  to create just that. This type of lunch box can be picked up on Amazon  and I believe it's the first step towards a more interesting lunchtime experience.
 The sandwich: No one knows their child better than you, so pick a selection of sandwich cutters that you know your child will enjoy.
You can pick up a great variety of sandwich cutters from all over the place, Lunch Punch offer a fantastic array of choices to jazz up any boring  sandwich!
 
Change it up to create excitement around lunch each and every day!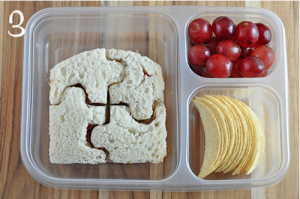 Quick and simple TOP TIP: Add bagged snacks to the lunch box,  Jacobs Oddities are perfect,  they come in a great selection of flavours and shapes for you to get creative with.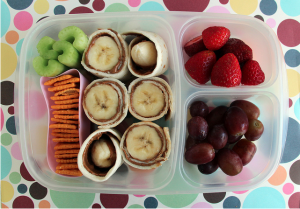 The 5-a-day challenge:
 Some kids just love their fruit and veggies but if they don't, well us parents just have to wise up and find creative ways to lure our  lovelies into devouring them without question!.
Have you thought of wrapping fruit into a chocolate spread wrap? Or creating delicious dips for dunking carrot sticks or fruit cubes?
We recently purchased this great device for cutting fruit and veggies into original and interesting shapes and it's as quick as slicing  but way more edible for young minds!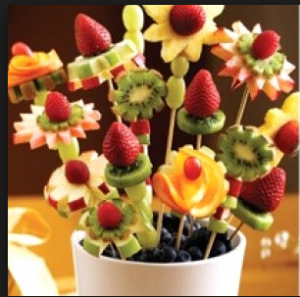 Keep it interesting: I found this great idea of writing a little love note, reminder note or something to make your little one laugh via Honey you baked. If your little ones are too young to read yet, try adding edible pictures to jazz things up – there is a great selection online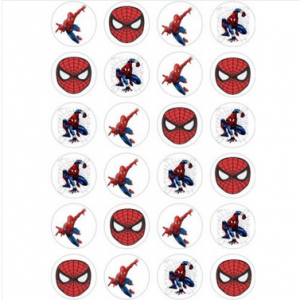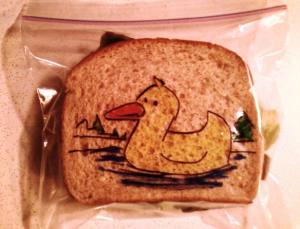 If you are more of a sandwich bag kind of family and you fancy yourself as a bit of a Picasso, then take a leaf out of David Laferriere's book, who creates a different piece of art daily for his kids to appreciate before devouring their sandwiches! Check out all her work via Flicker
Been inspired with your lunch box lately? Please share the ideas around and keep boredom out of the lunch box!
That's all for now folks!
Caroline 🙂